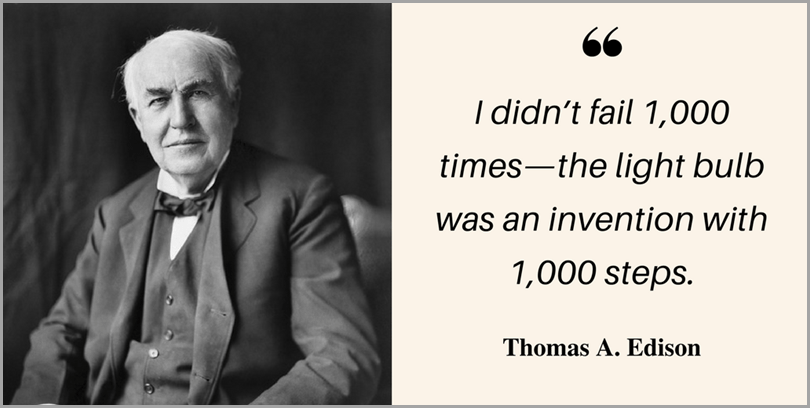 Behind every success story is a back story. Perseverance.
Thomas Edison – his teachers, said he was "too stupid to learn anything." He was fired from his first two jobs. He made 1,000 attempts before inventing the light bulb. When a reporter asked, "How did it feel to fail 1,000 times?" Edison replied, "I did not fail 1,000 times. The light bulb was invented with 1,000 steps!"
Henry Ford went broke five times before he succeeded.
Albert Einstein did not speak until he was 4, did not read until he was 7. One of his teachers said he was slow, unsociable, and adrift forever in foolish dreams.
Coaches Tom Landry, Chuck Noll, Bill Walsh, and Jimmy Johnson accounted for 11 of 19 Super Bowl victories from 1974 to 1993. They also share the worst record of first season coaches in NFL history. Their collective record as first-year coaches is one win and 45 losses.
Speaking of football – remember Vince Lombardi? An expert at the time said, "He possesses minimal knowledge and lacks motivation." Lombardi would later write, "It's not whether you get knocked down; it's whether you get back up."
Babe Ruth struck out 1,330 times, yet he made 714 home runs. He said, "every strike brings me closer to the next home run."
Michael Jordan was "cut" from his high school basketball team.
Cyclist Lance Armstrong was cut from his high school football and swim teams. He turned to cycling and finished last in his first race as a professional.
Van Gogh – sold only one painting during his life to his sisters' friend for $50.00.
Abraham Lincoln went to war as a Captain and returned as a Private. He failed at business. As a lawyer, he was too impractical and temperamental to be a success. In politics, he was defeated in running for congress, in his application to be commissioner of the general land office, for the senate on two occasions and, for the Vice Presidency. He wrote a letter to a friend, "I am now the most miserable man living. If what I feel were equally distributed to the whole human family, there would be not one cheerful face on earth." Two years later, he was elected as President of the United States, where he successfully led the country through its greatest internal crisis, the American Civil War, preserving the Union, ending slavery, and rededicating the nation to nationalism, equal rights, liberty, and democracy.